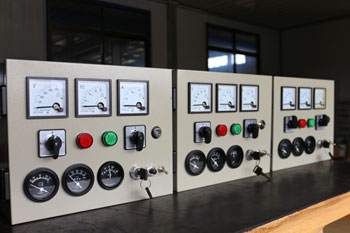 Four-protected control panel introduce
The unit has start / stop function, And also with the basic configuration and function as follows:
1, the start / stop controller
2, voltmeter, ammeter, frequency meter
3, voltage and current change-over switch
4, power generation / closing / fault alarm indicator
5, the emergency stop button
6, alarm function: over speed, high water temperature, low oil pressure
7 protection function: low oil pressure, high water temperature, high oil temperature, over speeding, emergency stop and other preset protection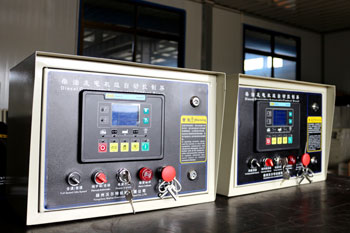 Auto start control panel introduce:
In addition to the standard manual control panel function, the control panel, and the additional remote control interface.
1, auto start/parking / manual function selection
2, start delay relay (3-5 seconds, adjustable)
3, stop delay relay (0-270 seconds ,adjustable)
4, 3 times auto-starting time delay relay.
5, electrical alarm indication for mains charging: low / over speeding, output voltage failure, failing start, high temperature pre-alarm, emergency stop.
6, the protection function: low / speeding, failing start, the failure of the output voltage (overvoltage, under voltage, over current)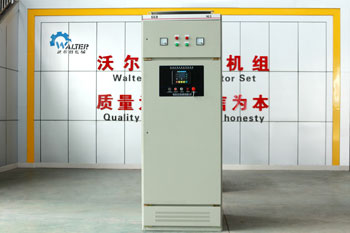 ATS introduce:
Guard-Free, Independent fully automatic control screen (ATS)
1, the control panel has all the features of the auto start system .
2, after automatic monitoring of the mains start the unit , then automatically put the load.
3,Professional supporting the ATS switching systems, electrical safety, convenient, and highly efficient.
4, after getting main signals , system automatically cut off the load power delivery, and also slow down, stop the unit .
5, Guard-Free generator set control system for whole day.
Parallel control panel
Parallel control panel
1.munual/ semi-automatic/ full-automatic; control for two or more generators
2.more than two generators in parallel ensure a reliable power supply
3.centralized scheduling and automatic load diatribution to facilitate maintenance and repair
4.more economical,save cost for users
5.more flexible,customers can add equipments to meet the additional loads at any time.